Happy Holidays From The Chesapeake Bay Group!
Christmas on the Chesapeake Bay in Deltaville, Virginia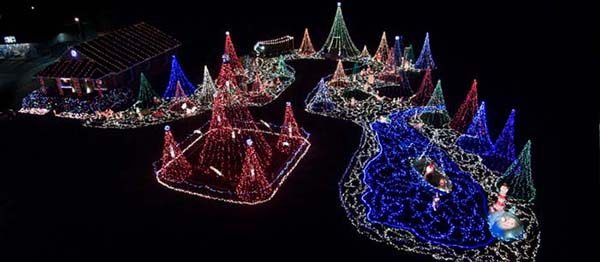 What now has become a true Deltaville tradition began over the Christmas of 1996. Stephen Blue had seen Chevy Chase's "Christmas Vacation' for about the 80th time. Stephen and his parents had just returned home from their annual drive to Richmond to take the Tacky Light Tour of all the houses in the west end decked out in lights. Stephen was 12 years and decided that this was his year for his own "tacky light" display.
It all began with 6 or 7 old 100-light strands that were left over and unused from the family Christmas tree. He strung the lights along his home's balcony, door, living room window, and admits to even having some really "cruddy looking stuff" on the deck railing.
With his dad's assistance (he's lent a hand every year), he ventured onto the roof and outlined it with a set of lights in motion, and attempt to spell out "NOEL". Stephen was definitely one happy 12-year-old.His mom and dad who were just as excited as he was probably thought this was a phase and a one-year thing…. Boy were they ever wrong!
The Christmas Season of 2015 marks the 13th anniversary of Stephen's "tacky light" show at the Mason Realty building with more than 113,000 lights, it's a sight to see in Deltaville! This year features a slight expansion of the 2014 design. Notable additions include an extension of the walking path, additional new characters, and importantly, our first interactive feature: The controllable tree!
The 20' walk-in tree was converted to LED, and now has a control panel inside where kids can hit buttons to make the tree change color, spin in circles, and activate over a dozen strobe lights in the top of the tree! Roughly 68,000 lights, or over 60% of the display, was LED this year.
Visit Stephen's website www.deltavillelights.com, to see the history of this really beautiful Christmas light display and how it has evolved into what you see today. This is truly a holiday tradition here in Deltaville.
The lights are on:
December 1, 2015 - January 1, 2016!

5:00pm-11:00pm Sunday-Thursday, and 

5:00pm-Midnight Friday-Saturday.
The lights will also be on until Midnight on Christmas Eve, Christmas Night, and New Years Eve.
Happy Holidays!!
Neena Rodgers
There are currently no comments listed.